Nature experience in the Tyrolean Alps
Feel the proximity to Tyrol's highest glacier. Our village St. Leonhard is located in the back of the Pitztal and therefore in close proximity to our unique natural jewel, the Pitztal glacier, the roof of Tyrol.
But not only the glacier invites you to experience fascinating and unforgettable outdoor adventures. The entire region convinces with a unique diversity and its fantastically beautiful winter scenery.
Valley with almost unlimited possibilities
The ski area at Hochzeiger is a true dream for sun skiers and families. High up on the slopes you can enjoy a unique 360° panorama, in the numerous huts you will be spoiled with local delicacies and Pitzi and his friends are waiting for the smallest guests.
The Pitztal Glacier and the Rifflsee ski area share a common ski area and thus offer you over 67 kilometers of slopes for pure skiing pleasure. In addition to the perfectly groomed slopes, other highlights await you here, such as the X Park, the largest ski touring park in Austria, as well as numerous, picturesque winter hiking trails.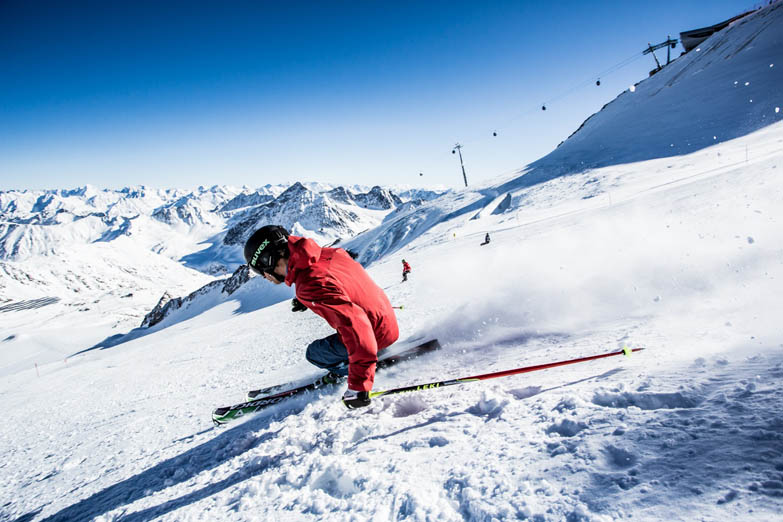 in the picturesque scenery of the Pitztal
Enjoy the wonderful view, breathe in the clear mountain air and challenge your body? This is best done during a day on the cross-country ski trails of the region. Whether you want to go high up, or prefer to stay down in the valley thanks to the wide variety of trails, everyone will find their own personal cross-country skiing highlight in the Pitztal.
The valley trail stretches over 21.7km and leads along the Pitze from Wiese up to Mandarfen. For those who prefer to breathe in some high-altitude air, we recommend the high-altitude trail in the Rifflsee ski area at an altitude of over 2,200 meters. In total, a cross-country ski trail network of over 100 kilometers awaits you, so nothing stands in the way of a varied winter vacation in Pitztal.
Winter sports in the Pitztal
more than just skiing or snowboarding
In addition to the classic winter sports on skis, the Pitztal offers numerous other possibilities to make your winter vacation unique and unforgettable. Whether an exciting descent on the toboggan, a cozy evening in a hut or exuberant snowshoe hike, our house Astoria is the perfect starting point for any kind of adventure.